We've Got You Coming and Going in This Week's Wellness Roundup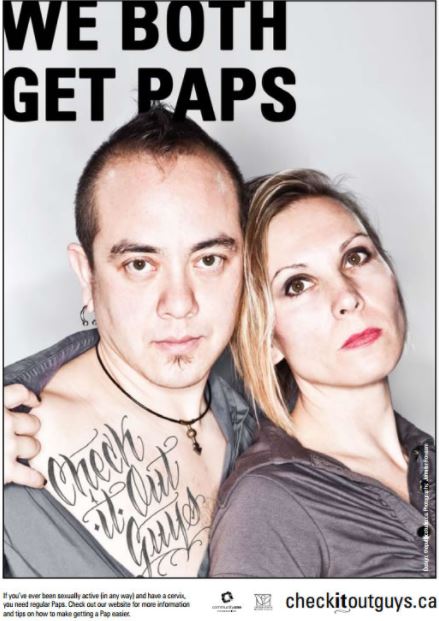 LGBT HealthLink, 6/29/2017
Pap Tests Matter for Trans Guys, Too
Speaking of preventing cancer in the transgender community, have you checked out the Check It Out Guys HPV campaign? Not only do they provide tips to providers on providing Pap tests for trans men, but they also have these beautiful ads to advertise the importance of Paps for trans guys.
Yearly Screening Could Reduce Anal Cancer
A Swiss study projected that rates of anal cancer in queer men who are living with HIV could be substantially reduced if members of this group were screened yearly, helping to pick up on potential problems early. The biggest risk factor for anal cancer is the HPV virus, which unfortunately is highly prevalent among queer men living with HIV.
Why Smoking Policies Are an LGBT Issue
Curve Magazine opined that nonsmoking policies are a matter of LGBT rights, because queer folks smoke at a disparate rate and new research has shown that nonsmoking policies for places like restaurants and bars are especially helpful for them to quit. They argue that a lack of LGBT-inclusive data helps to mask public smoking laws from being seen as an equality issue.
What Not to Do When You Go Out
A new study found that bar-going LGB folks used a whole slew of tobacco products more than their heterosexual counterparts, including things like e-cigs, hookah, and chewing tobacco. Queer women, for example, were 1.69 times more likely than straight women to use e-cigs and 2.27 times more likely to use both cigarettes and some other tobacco product.
CDC Marks Women's Health Week
The CDC celebrated National Women's Health Week by sharing resources such as a quiz on gynecologic cancers and a campaign on how young women can understand heredity risks. LGBT folks face added risks for cancer, so the resources can be especially useful for queer women (and gynecologic and breast cancers are of concern to a lot of trans folks, too).
School Victimization Down in MA
A study of Massachusetts schools found that between 1995 and 2015, rates of LGB students having been threatened dropped from 32.9% to 6.7%, a big improvement. Not unrelatedly, the prevalence of queer students missing school decreased from 25% to 13.4%, but this still indicated a big disparity over the 3.8% prevalence among heterosexual students.
Indonesian Court Sentences Gay Men to Torture
Human Rights Watch condemned a religious court in Indonesia for sentencing a young, same-sex couple to being beaten 85 times with a cane. The crime? Being in a same-sex relationship. HRW said that this is considered illegal torture under international law, and could set a horrifying precedent in a country that has not before used flogging to punish queer individuals.
What It's Like for Queer Doctors
A new study examined the experiences of LGBT healthcare providers and found that they had stress at work related to being closeted and coming out, as well as faced negative experiences such as missing promotions and discriminatory comments. Many dealt with stress by being advocates and exercising stress care, especially in workplaces lacking LGBT resources.
New Details on Queer Men and HPV
Researchers found that many queer men who had HPV detected in both anal and oral samples had different strands in one versus the other, suggesting they were infected multiple times. Oral infection was less common, present in only 9.8% of participants compared to 71.8% with anal infection, with both more common among smokers and people living with HIV.
Gender-affirming Surgery Jumps 20%
US News reported that between 2015 and 2016, the number of gender-affirming surgeries for transgender patients jumped almost 20%, according to the American Society of Plastic Surgeons. About 3,200 surgeries were performed in 2016, which was a big jump from the number performed in 2015, when the surgeons' group started collecting this data.
More Wellness News Across the States
Governors in Nevada and Connecticut signed laws banning LGBT "conversion therapy"… Alaskastate health boards endorsed the view that discrimination against LGBT individuals leads to greater risk for alcohol use, drug use, and more… Washington revealed a state health survey showing that half of bisexual students had contemplated suicide… A Colorado man was arrested for performing a gender-affirming surgery without a medical license… And Oregon may soon become the first state to offer a nonbinary option in official state ID documents.