Update on Transphobic State Bills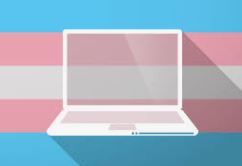 LGBT HealthLink, 2/8/2022
Update on Transphobic State Bills
MSNBC reported that a bill in Mississippi would block transgender incarcerated individuals from being able to change their name to align with their identity, and would also block transgender youth from updating their gender marker. Idaho was the last state to try to ban transgender people from acquiring name changes, but their law was stopped by a federal court; outside of the US, Hungary recently banned all name and gender marker changes for trans individuals. MSNBC also reports that seven states moved within the first week of 2022 to ban transgender atheletes from participating in school sports.
COVID-19 Vaccination among People Living with HIV
AIDS Patient Care and STDs published a study finding that between March and May 2021, 64% of people living with HIV reported being vaccinated against COVID-19. LGBT folks living with HIV, as well as those with undetectable viral loads, were more likely than others living with HIV to have been vaccinated. Beyond that, some factors that make the general population more likely to get vaccinated, such as being older and having higher perceived risk, also held true among people living with HIV. The results signal that the overall vaccine rate in the population is relatively high, but that more targeted outreach and education is needed.
Telehealth Promising but Understudied for Trans Youth
Transgender Health published a study calling for more research on delivering gender-affirming care to youth using telehealth services. Telehealth services generally have expanded greatly since the onset of the COVID-19 pandemic, due to the closure of physical health spaces and easing of regulations that made telehealth harder to offer. However, authors of the study say that only five scientific articles have looked at telehealth for gender-affirming care for youth, despite its potential to overcome many barriers for this population (such as physically traveling to providers that offer such services, which is especially tough for rural youth). What little research exists suggests high interest in and satisfaction with gender-affirming care via telehealth.
Supplement and Drug Use Signals Symptoms
Eating Behaviors published a study finding that use of appearance and performance-enhancing drugs and supplements (APEDS) was common across cisenger bi and gay men and women, especially men. Furthermore, it was associated with symptoms for eating disorders and muscle dysmorphia, suggesting use of APEDS could be an important symptom for providers to look out for among queer patients, and something that could be addressed through proper treatment.
The CDC published a toolkit for National Black HIV/AIDS Awareness Day, which is observed each year on February 7th as Black individuals continue to bear the brunt of the HIV epidemic in the US. This year's social media messaging highlights topics like how intersectional discrimination contrinbutes to this disparity; how individuals can access HIV self-test kits; and learning more about accessing PrEP, including for Black women, who still represent a small fraction of those who have been able to access the HIV prevention drug.
Dermatology Concerns for Trans Individuals
Healio reported on a study exploring the dermatology needs of transgender patients. Trans individuals have some unique needs – for example, transmasculine individuals on hormone therapy often experience acne as a side effect – and also unique concerns, as some dermatological treatments can interact with gender-affirming therapy. Additionally, the paper calls for gender-inclusive medical histories to be the norm, which could ensure that such issues are properly identified and that trans patients are treated with respect.