Tele Trans Care Shows Promise, #LGBTWellness Roundup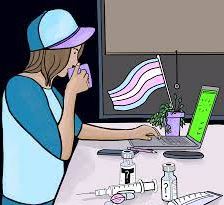 LGBT HealthLink, 4/12/2021
Tele Trans Care Shows Promise
A study examined how gender minority youth felt about telemedicine, which has expanded rapidly during the COVID-19 pandemic, as a way to access gender-affirming care. They found that almost nine in 10 (88%) were willing to use telemedicine in the future, though most prefered in-person care for their first visit – suggesting a potential model of care for the future.
HIV App Gets Five Stars
Elsewhere in health technology news, researchers found that young sexual minority men responded well to an app designed to help them access HIV-related resources, according to a small pilot study. The app provided users with tailored recommendations on HIV testing and accessing PrEP, and also helped users locate services.
Financial, Logistics Challenges for Centers
Forbes reported on the challenges facing LGBT community and health centers during the COVID-19 pandemic, including financial struggles as some have faced more than 50% falling revenue, as well as increased needs among the LGBT population. They have also had to work towards making services available from home, including innovations like online groups and at-home self-test kits for HIV and STIs.
Trans Youth and Heart Health
Researchers found that youth with a diagnosis of gender dysphoria are more likely to have a medical diagnosis related to cardiovascular or metabolic health. For example, youth with gender dysphoria (which includes transgender and questioning youth) were 1.8 times more likley as others to have abnormal cholestoral levels, and transgender males were 1.5 times more likely than others to be overweight or obese.
Teen Activists Take the Lead
NBC News reported on youth activists who are leading the fight against bills seeking to limit transgender rights across the country. For example, one eleventh grade student in South Carolina is fighting that state legislature's attempt to ban transgender studyn athletes from participating in sports. The activism surge comes as lawmakers have shifted in recent years from general anti-transgender legislation to bills that target youth in ways that they say protect minors but that advocates say cause harm.
Tracking Athletic Bills
Relatedly, Movement Advancement Project published a map that is tracking states that ban transgender student athletes from participating in sports in alignment with their gender identity. Currently, five states have such bans, although the first state to issue such a measure – Idaho – currently has its ban held up while a court reviews its legality. Check out CenterLink's ActionLink program to get involved in policy issues at the local level.