Survey Finds Poor LGBT Health – #LGBTWellness Roundup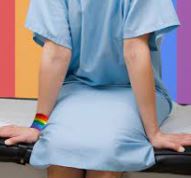 LGBT HealthLink, 8/11/2021
Survey Finds Poor LGBT Health
Kaiser Family Foundation published new research finding that LGBT people were more likely than non-LGBT folks to report poor or fair health, even though the LGBT population is on average younger than their peers. LGBT people were also more likely than others to report negative experiences with providers, and while they used some types of care as much or more than their peers, other key services (like mammograms or gynecological exams) were underused among the population, suggesting unmet needs.
Gender-affirming Hair Removal Works
Researchers found that hair removal procedures among transgender individuals – a key part of gender-affirming care that is covered by less than 5% of insurers – was associated with better mental health. Those who had undergone such procedures had less past-month psychological distress and less past-year suicidal ideation (as well as less smoking) compared to those who wanted but were not able to access the procedure. The results provide evidence that such care has medical benefits and should be more widely available.
PrEP Gets Coverage Boost
Gay City News reported on new guidance from the federal government instructing insurers to cover the costs of PrEP, including doctor's visits and lab work, as preventive care under the Affordable Care Act. The move represents another step forward for the HIV prevention option, which stands to benefit LGBT people, but until recently was mostly paid for out-of-pocket or using stand-alone benefits through state governments or drug makers themselves.
Protective Factors for LGBT Youth
A new study found that potentially protective factors for youth, including having trusted adults and peer support, indeed were associated with lower risk of adverse wellbeing outcomes. Among students who identified as questioning or as something other than heterosexual, bisexual, lesbian, or gay, having family support was also a protective factor against several adverse outcomes. The results showcase the importance of support in and out of school for young LGBT people.
Improving Mental Health Data and Services
On the subject of LGBT youth, Time published an op-ed from the head of the Trevor Project on what can be done to support LGBT youth mental health. The starting point is better data, as research on the population is limited, particularly research that can be disaggregated by factors like race and ethnicity that shine more light on specific disparities. The piece also discusses how general shortcomings of the mental health system in the U.S. are compounded for LGBT youth, who most need the services.
Senate Confirmations Make History
The Washington Blade reported on two groundbreaking, unanimous Senate confirmations of a lesbian woman and a transgender woman for positions at the Department of Defense. The confirmations come just months after the government lifted restrictions on transgender individuals serving in the armed forces, and a decade after the end of the infamous Don't Ask, Don't Tell policy that restricted sexual minority rights in the military. The history-making move comes as LGBT service members and veterans still face many health and other challenges.