Smoke-Free Housing infographic from National Council for Behavioral Health!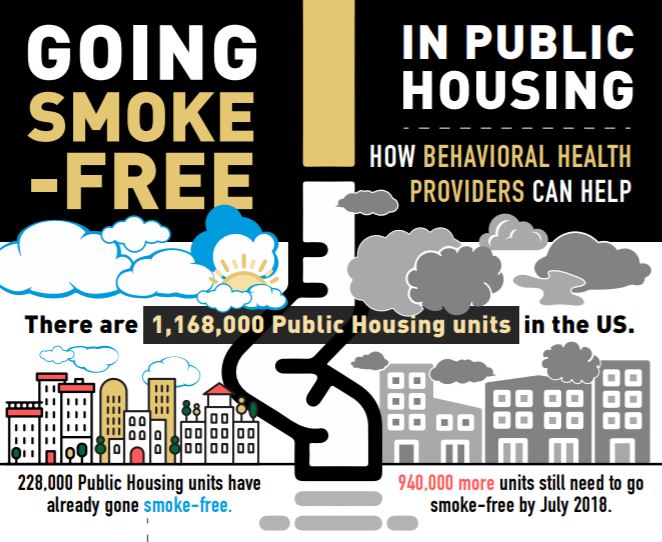 LGBT HealthLink, 3/27/2018
No Rush to Protect Student Safety
Researchers found that only one out of eight measures to improve LGBTQ student safety, as monitored by the School Health Profiles study, increased in most states between 2010 and 2014. Reuters reported on the findings and noted that schools were doing better on things like designating safe spaces than they were at creating GSAs or improving mental health care.
PrEP Uptake Lags Among Minorities
The CDC found that while 500,000 Black and 300,000 Latinx individuals could benefit from taking PrEP (the HIV prevention treatment), under 8,000 prescriptions have been filled for members of each group. The Daily Beast also reported on the findings and other studies showing that minorities have lower rates of PrEP usage despite facing higher HIV exposure risk.
Don't Miss Bisexual Health Awareness Month
The Bisexual Resource Center launched its annual Bisexual Health Awareness Month campaign, with a social media toolkit, selected recent articles, and more resources. They include resources for bisexual folks who want to improve their health, and for others who wish to be good allies or supporters of bisexual health equity. Either way, check out the campaign before the month is up!
More Proof Patients OK with Questions
A study examined the acceptability of patients being asked for their sexual orientation and gender identity and found, as have similar studies, that patients overwhelmingly do not mind being asked, with only 3% reporting some kind of offense. US News explored the findings and the importance of collecting this data to provide quality care to LGBT patients.
Presumptive Treatment of Gonorrhea?
Researchers examined the practice of presumptively treating suspected gonorrhea infections before test results have come back. They found that the site of the infection (urethral, rectal, or pharyngeal) played a big role in how likely an infection was likely to be treated presumptively, and recommend implementing point-of-care testing to improve on this model.
Making Public Housing Smoke-free
The National Behavioral Health Network published an infographic on the effort to make public housing smoke-free, which is slated to happen nationwide this year due to a new regulation. However, almost a million units across the country still need to be converted. We hope the policy will help LGBT people, who smoke at higher rates than others, quit (and avoid secondhand smoke).