Lesbians Make Great Moms – We Already Knew This, Right? #LGBTWellness News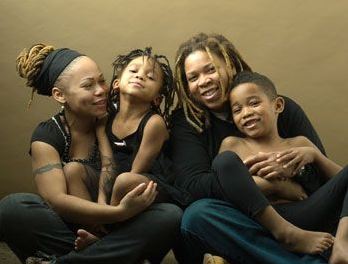 LGBT HealthLink, 8/2/2018
Healthy Families for Lesbian Moms
A study found that there were no significant differences between children raised by same-gender female couples and those raised by opposite-gender couples, in relation to a range of issues including adaptive functioning and mental health. The study followed 154 lesbian women from the time that they were prospective mothers through their children's adulthood.
CDC Releases Skin Cancer Report
The CDC released its fourth annual report on skin cancer prevention, highlighting recent findings such as gaps in skin cancer education in schools and low levels of healthcare provider engagement on the topic. It is an important topic for LGBT health advocates, given that research has found heightened skin cancer risk (including indoor tanning) among queer men.
Sexual Minorities and Intimate Partner Violence
A new study found that 46% of men in same-gender relationships had experienced intimate partner violence within the past year, with internalized homophobia significantly increasing the risk. One of the researchers stated in an interview that the study is important for demonstrating that opposite-gender couples are not the only ones impacted by intimate partner violence.
World Not on Track for HIV Goal
UNAIDS released a new report entitled "Miles to Go" in which it warns that the world is not on track to reach the previously-set goal of having fewer than 500,000 new HIV infections per year by 2020. While the number of new infections has declined significantly in highly-impacted parts of Africa, they are on the rise in regions like Eastern Europe and Central Asia.
Film Takes On Conversion Therapy
NBC News reported on an upcoming film entitled Boy Erased that takes on the issue of "conversion therapy," a discredited practice that seeks to change someone's sexual orientation or gender identity. NBC cites research which found that 700,000 LGBT Americans between the ages of 18 and 59 were exposed to the practice during their lifetime; many states have now banned its practice.
Trans Woman Denied Prescription
CNN reported on a transgender woman in Phoenix who says a pharmacist – who has since lost their job at CVS – refused to fill her prescription for hormone therapy. Coincidentally, Arizona Central also recently reported on the progress the state was making on many fronts with respect to LGBT health thanks to the work of community groups and healthcare providers.
Pilot Program Doubles HPV Vaccine Odds
A new study found that an HPV vaccination program aimed at queer young men was successful at more than doubling the likelihood that these youth start vaccination. The program, called Outsmart HPV, combined tailored educational content for queer young men and regular reminders to complete the vaccine series. Queer young men are at an elevated risk for HPV, which can cause cancer, but HPV vaccination programs have traditionally focused on adolescent girls.
Ohio Sees Big Smoking, Vaping Disparities
Cleveland.com reported that LGBT teens in Ohio were more likely to use both traditional cigarettes and e-cigarettes than their non-LGBT peers. According to a new analysis conducted by the Ohio Department of Health, approximately 18% of transgender or gender-nonconforming students had smoked cigarettes and 26% had "vaped" within the past thirty days.
Trans Women and Cardiovascular Risk
NBC News reported on a new study which found that transgender women who take hormones were at an elevated risk for cardiovascular problems, such as heart attack, stroke, and blood clots. The study included 5,000 transgender women and 97,000 cisgender patients for comparison, making it the largest study on hormone therapy for transgender folks to date.
Call to Tackle Ovarian Cancer in Queer Community
Multibriefs published an op-ed on the need to provide more tailored intervention to people in the LGBT community who are at risk for ovarian cancer. The author noted that queer women may be at higher risk because of health factors and lower likelihood of using contraception and having children, which can lower risk, and cited the need for inclusive prevention strategies and more welcoming healthcare environments.
Trust for Online, Mobile Research
A study found that queer men largely trusted online and mobile research despite a national climate in which data concerns have risen; participants were more concerned with their personal online data being sold to third parties than with it being shared anonymously with researchers. This is good news for researchers, who often rely on online methods for hard-to-reach LGBT populations.
Want Quality Care? Here's How
Seventeen Magazine published a guide with tips for queer folks on how to tackle barriers and get quality healthcare. Among the suggestions: find queer healthcare centers where possible, try to define your identity when you feel your doctors need to know, and research resources if you are not getting what you need.