#LGBTWellness this week: Is Your Company Helping?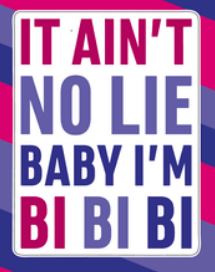 LGBT HealthLink, 10/6/2017
When Companies Help, And When They Hurt
The Pride reported on new research investigating what corporations are doing to help and hinder the advancement of the LGBT community. In addition to looking at workplace LGBT equity issues, they also looked at intersectional issues, like whether the company is involved in tobacco products (whichdisproportionately harm LGBT folks) and their policies around climate change.
What America Thinks about Trans Fertility
A study of a U.S. population sample found that 76.2% of people agreed that "doctors should be able to help transgender people have biological children," with 60.1% also believing doctors should aid transgender men in carrying pregnancies. People who reported not knowing a gay person, or only knowing a gay person without children, were less likely to be supportive.
Landmark Study of Suicidality and Trans Youth
A representative study of Californian youth – the first of its kind in the U.S. – found that transgender youth reported suicidal ideation in the past year at nearly twice the rate of their peers, with one-third of students reporting such feelings. After adjusting for other factors, depressive symptoms and victimization were both linked to even higher odds of suicidality.
ICYMI: Happy Bi Awareness Week!
Movement Advancement Project celebrated Bisexual Awareness Week by launching a new resource on bisexual older adults (did you know 1% of people 65 and older identify as bisexual?) and another on bisexual transgender people (yes, transgender folks have sexual orientations, too!). They also shared a Spanish-language infographic on the bisexual community.
Exploring HPV Among Queer Men
Two new studies out of Italy explored HPV among men who have sex with men. A study of oral infections found that among queer men living with HIV, age at first sexual experience and quantity of receptive oral sex partners were determinants of HPV infection. Another study examined multisite infections and found that nearly half of queer men were HPV positive at one or more sites.
CDC Explores Tobacco Disparities
The CDC released a report on "a socioecological approach to addressing tobacco-related health disparities," which explores why populations such as LGBT communities, ethnic and racial minority groups, and people of low socioeconomic status see disparities in tobacco use. It also discusses how tobacco marketing targets these groups, and how policies can help undue disparities.