#LGBTWellness news wraps up November and welcomes December!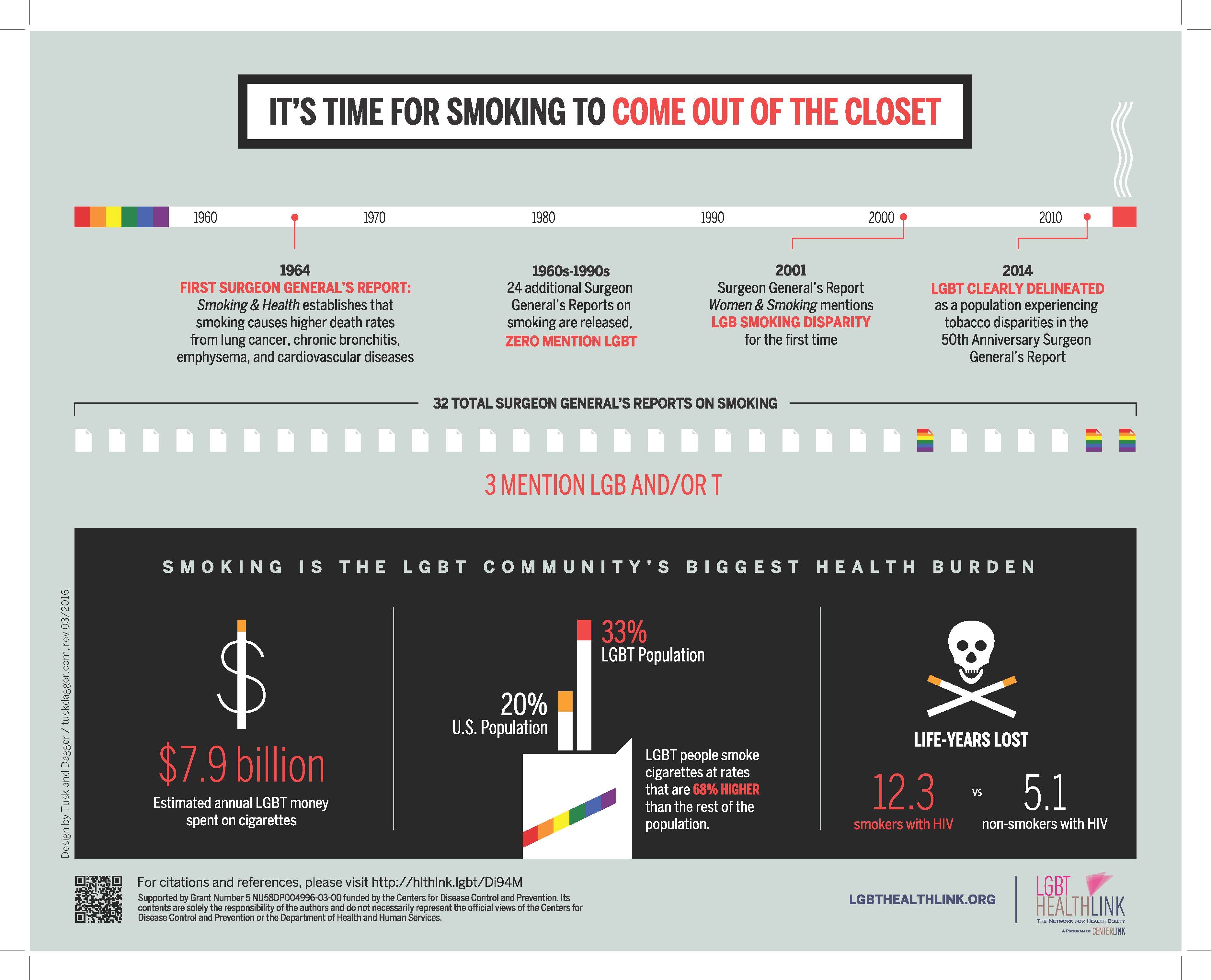 LGBT HealthLink, 12/4/2017
Preparing for World AIDS Day
UNAIDS launched a new campaign on the human right to health ahead of World AIDS Day on December 1. The campaign focuses on connecting the right to "the highest attainable standard of physical and mental health," which has been part of international law for 50 years, to the needs of people living with HIV today. The campaign includes action items for readers to get involved.
New Study Confirms Queer Smoking Disparity
A major study found that LGB adults smoked at a 38.8% higher rate than heterosexuals adults, with 27.8% – more than one in four – reporting that they are current smokers, compared to 20.1% of heterosexual adults. The authors believe that the stigma and discrimination faced by queer adults, plus intentional targeting by the tobacco industry, help explain these high rates.
Marking Transgender Awareness Month
Fenway Health marked Transgender Awareness Month with an infographic showcasing sobering facts about trans health. It notes that one in three transgender people have delayed needed care out of fear of mistreatment and that one in five transgender people has been outright denied care by a healthcare provider. The graphic also explores topics like economic disparities and violence.
Prostate Cancer and Gay Men
U.S. News published an article exploring how prostate cancer affects gay men, a disease that experts and patients say can present different challenges to queer people even though the diagnosis itself is the same. The article also notes that cancer surveys often omit asking sexual orientation and that there is a dearth of resources specifically for queer cancer survivors.
Links Between Financial Status and HIV Risk
A study examined the relationship between facing financial hardship and engaging in higher-risk sexual practices among queer men. It found that high levels of sexual hardship were associated with 1.28 times the risk of engaging in condomless intercourse and 2.36 times the risk of engaging in transactional sex, both of which are risk factors for contracting HIV.
Barriers to Gender-Affirming Care
Researchers surveyed 364 transgender adults in Massachusetts and found that 23.6% were unable to access gender-affirming care within the past year. Factors associated with having difficulty included having lower income and education levels, being younger, and having private insurance (suggesting state insurers like Medicaid were better than the private market).
Researchers studied the cases of almost half a million people living with HIV in the U.S., and found that their anal cancer incidence rate was much higher than that of the general population. Queer men had even higher rates than others living with HIV, and those who had been diagnosed with AIDS rather than only HIV had a fourfold increase in anal cancer incidence.
Remembering Victims of Violence
NBC News reported on events happening around the world to commemorate Transgender Day of Remembrance on November 20. The founder of the occasion – which began after violence in Boston in 1999 – stressed the ongoing importance of naming violence against transgender people, which remains on the rise and disproportionately affects transgender women of color.
Journal Explores Queer Families
The Journal of Homosexuality published a special issue on LGBT families, noting in its introduction the need for "a useful framework" to explore topics like parenting and family units in the community. Articles include an examination of adult children of same-sex male parents, and a study on how microaggressions often question the validity of queer families.
Hep A Outbreak Grows in California
The Los Angeles Times reported on a disturbing outbreak of Hepatitis A than began in San Diego, mostly among that city's homeless population, and has now spread to many queer men in Los Angeles. Queer men are generally at higher risk for Hepatitis A (and homelessness), and with 14 cases already reported outside of Southern California, the outbreak could yet spread.
Impact of Heterosexism on People of Color
A study examined the role of socioeconomic status in how heterosexism impacted queer people of color. Interestingly, the results suggested that those with higher socioeconomic statuses were more likely to have a negative mental health impact from heterosexism, suggesting they may need assistance in dealing with discrimination's impact on their mental health.
The National Behavioral Health Network reported on the 40th anniversary of the Great American Smokeout, and highlighted the ways in which smoking disproportionately impacts people with mental illnesses and substance use issues – both of which disproportionately impact LGBT people. This may help to explain why LGBT folks smokeat about a 50% higher rate than others.