#LGBTWellness News: Family Support Is As Important As It's Ever Been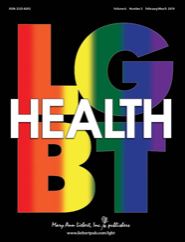 LGBT HealthLink, 4/10/2019
What We Need to Know about Family Acceptance
Researchers reviewed the importance of family support for the development and health of LGBTQ youth. While research is very limited, the article focuses on a recent symposium that developed a list of priorities for what should be investigated in this field. Among these areas in which we need to learn more: the impact of different parenting practices on LGBTQ youth, what education parents need to help LGBTQ youth, and how to tailor family-based interventions.
Gaps in Provider Knowledge on Cancer
A study explored gaps in doctors' knowledge on providing oncological care to LGBTQ patients. They note that while more healthcare records systems are beginning to record LGBTQ status – a positive first step towards reducing disparities – doctors often do not know what to do with that data. They site a recent survey showing 70.4% of respondent doctors wanted more knowledge on cancer care for LGBTQ patients.
Challenges in the South to Ending HIV
The New York Times examined challenges in the federal government's new plan to end HIV infections by 2030. In places like Jackson, Mississippi, many people of color are skeptical of the public health system given historical abuses of the Black community. On top of that, antiLGBTQ bias in the region makes it hard to reach those most impacted by the virus.
Queer Women Less Likely to Know Health History
Researchers found that lesbian and bisexual women were less likely than their heterosexual peers to know their family's health history with respect to breast cancer. Specifically, lesbian women were 1.56 times more likely than heterosexual women to not know their family health history, and bisexual women were an even greater 2.59 times more likely to not know. The authors say this must be addressed or else health disparities facing queer women will be exacerbated.
Tips for Serving Bisexual Patients
HRC continued its series of posts for Bisexual Health Awareness Month with tips for doctors to improve their care for bisexual patients. Since bisexual patients are less likely to disclose their orientation than are gay or lesbian patients, showing openness – for example, having LGBTQ-inclusive signage and LGBTQ-inclusive intake forms – are even more important for bisexual patients.
Win for Foster Equality
The Detroit Free Press reported that Michigan adoption agencies will no longer be able to discriminate against same-sex parents, based on a lawsuit settlement overseen by the state's Attorney General. The state had previously made news by permitting such discrimination by private agencies, thus making it harder for LGBTQ parents (and the 12,000 Michigan youth in foster care) to find placements.
Colorectal Cancer Awareness Month
The CDC released new resources in recognition of the 20th annual "Screen for Life" campaign to raise awareness about colorectal cancer. Risk factors for colorectal cancer include things like tobacco use, alcohol use, and obesity – factors in which some parts of the LGBT community face disparities. LGBT folks can learn how to reduce risk and get screened if between ages 50 and 75.
Differences Found in Vaccine Rates
A new study found some differences in vaccination rates between GLB adults and heterosexual adults. For example, bisexual women were more likely to have had an HPV vaccine than were heterosexual women; gay and bisexual men did not have a statistically significant higher rate of HPV vaccine than heterosexual men, despite higher risk. However, gay men did have higher coverage of HepA and HepB vaccines than did heterosexual men.
Examining Weight and Orientation
NBC News reported on a study which found that lesbian and bisexual women in the United Kingdom were 14% more likely to be overweight or obese than were their heterosexual counterparts. The study looked at 93,000 people nationwide. The article says that smaller U.S. studies have found similar results, but experts caution about making assumptions that being clinically overweight necessary implies any given health problem.
CDC Reports on HIV Prevention Progress
The CDC released a new progress report on HIV prevention, which they say for the first time combines national and state data. While they say that progress has been made, the report also notes that large disparities remain for queer men and transgender people, people of color, and those in the South. They also noted troubling increases in recent years among Asians and Native Americans and Alaska Natives.
Bi Health Month Continues!
March was Bisexual Health Awareness Month, and the conversation continues on Twitter with the hashtag #BiHealthMonth. Many organizations, like the Bi Resource Center and Movement Advancement Project, have worked together to share resources that are specific to bisexual health – a topic often overlooked when compared to gay and lesbian health. Check it out!