#LGBTWellness News: A Little About Us and Much More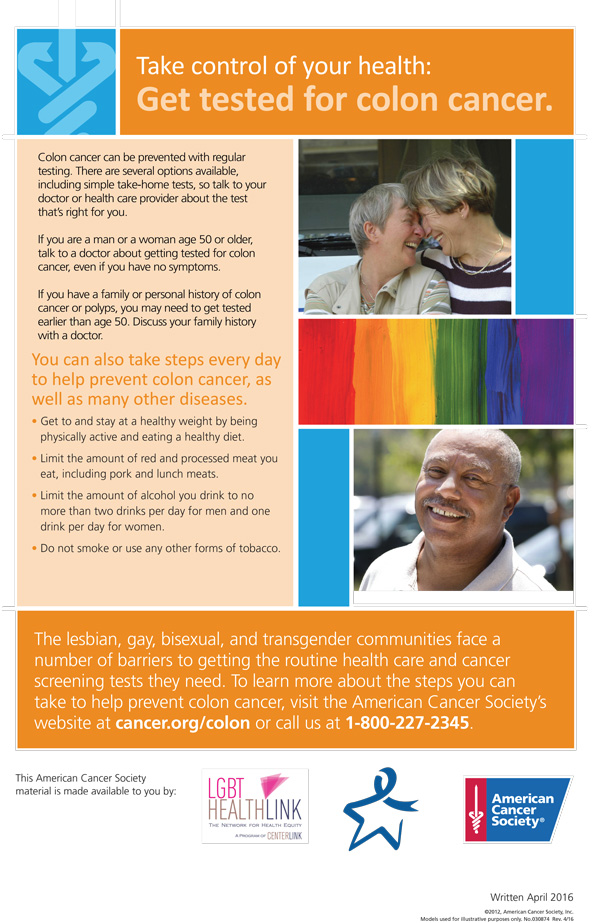 LGBT HealthLink, 3/6/2018
Did You Check Us Out on Grindr?
In recognition of March as Colorectal Cancer Awareness Month, LGBT HealthLink partnered with Grindr to promote cancer screening with special popup messages on March 2nd. The aim is to help meet the 80% by 2018 goal, an initiative to have 80% of adults 50-plus being tested for colorectal cancer by the end of this year.
Surprising News on Youth Suicide Risk
Researchers found that sexually-active youth whose sexual partners did not match up with their sexual orientation – for example, gay students who had opposite-sex partners – had 70% higher rates of suicidal ideation or attempt than did others. News sources reported on the study for shining light on how sexual orientation-related stressors may put certain youth at risk.
Alcohol Expectations and Abuse
A study examined how queer women's expectations about what drinking related to their likelihood of alcohol abuse. It found that those who reported "drinking to forget" were more likely than others to have instances of heavy drinking, while those who expected to become more aggressive when drinking were more likely than others to show alcohol abuse and dependence.
CDC: That E-cig Isn't Helping You
The CDC released a new infographic on e-cigs, which explains the dangers of these devices and that e-cigs are not an approved way to quit smoking. In fact, 40% of e-cig users have never smoked cigarettes before and are a whole new "market" for tobacco companies. Research shows that both LGBT youth and adults have higher rates of e-cig use than do their peers.
Finding Young Men for STI Studies
Researchers explored using venue-based sampling to find young men aged 14-17 for STI prevention studies, since they can be a hard population to recruit and thus understand. They identified and visited places like LGBT centers and popular parks, and recruitment went well. Youth recruited in more structured venues (like centers) had lower rates of STIs than did others.
Where to Retire if You're LGBTQ
SeniorAdvice.com published its top twenty list of cities for LGBTQ folks to retire in, including a fun infographic that shows important characteristics like quality medical care and affordable housing. #1 on the list? LGBT HealthLink's home of Fort Lauderdale, Florida!
Taking Advice from Stephen Fry
Towleroad reported that Gay British actor and personality Stephen Fry was diagnosed with prostate cancer last year and has recently been treated. He's now urging his fans to get tested if they are at risk, which public health experts advise is inclusive of queer men and transgender people with prostates. The article shares various resources for GBT people to learn more.
Infographic on Intersectionalities and Smoking
LGBT HealthLink published a new infographic along with its sister health disparity networks on how smoking disproportionately impacts many vulnerable populations, including LGBT folks, people of color, homeless individuals, and rural populations. Given these groups are hardly exclusive, it also hints at which subgroups of LGBT folks are most likely to light up.
Preferences Revealed for HIV Testing
Researchers interviewed queer Black men and Black transgender women in New York and found that their perception of accuracy of HIV tests and the characteristics of the venues in which they're offered were key factors in them deciding to get tested. They also found that many lacked knowledge about newer and possibly preferable methods like home and self-testing.
"Scant" Research on Therapy for Trans Youth
Researchers reviewed the available literature on using cognitive behavioral therapy to treat transgender youth who experience social anxiety disorder, and found that studies assessing its success are "scant." The review summarizes the guidelines published by major professional organizations on how to make such therapy gender-affirming and recommends more research.
E-Cigs Make You Inhale Toxic Metals
A new study found yet another danger associated with e-cigarettes: toxic metals that enter the body when the coils inside e-cigs heat up. Sources like U.S. News reported on the study as yet more proof that the dangers of e-cigs are not yet fully known to regulators or the public. It should be concerning for LGBT folks, who have picked up "vaping" faster than have others.
Festival Features LGBT Latinx Films
ReMezcla reported on LGBT Latinx films to be featured at Outfest Fusion, a festival happening soon in LA. The films tackle key topics like loss, family rejection, reproductive health, coming out, and queer friendship.