LGBTQ Youth Mental Health Survey Results Are In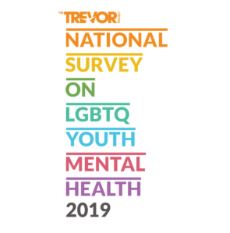 LGBTHealthLink, 7/2/2019
National Survey Explores Mental Health
The Trevor Project released its inaugural, national survey of LGBTQ youth mental health. They found that almost four in ten (39%) LGBTQ youth had seriously considered suicide within the past twelve months. The number was even higher for transgender and nonbianry youth, of whom more than half expressed such thoughts. Slate delved into the results and some of the causes for the disparities, including conversion therapy and discrimination.
New Recommendations on HIV, PrEP
U.S. Preventive Services Task Force published updated recommendations on HIV screening, which noted the significant decrease in risk of transmission among those who test positive and get on treatment. They also released recommendations for the provision of PrEP, for which they said evidence was strong that it can help prevent transmission among those high at risk.
Policies Could Mean Discrimination
JAMA published an article exploring how the expansion of religious conscience policies, which allow healthcare providers and facilities to object to providing services they find immoral, could impact the LGBTQ community's access to healthcare. The author says that LGBTQ people could be completely turned away, which might be especially problematic in rural areas with few options.
LGBTQ Wellbeing in U.S. Territories
Movement Advancement Project released a report on the status of LGBTQ rights in the U.S. territories. Puerto Rico scored relatively well on having LGBTQ-inclusive policies, with a similar score to the state of Maine, while the territories of Guam, the U.S. Virgin Islands, American Samoa, and the Northern Mariana Islands all faired poorer; for example, only Puerto Rico was above average when compared to U.S. states in terms of LGBTQ healthcare equality.
Supportive Families Mean Healthier Youth
LGBTQ Nation reviewed the latest research on family rejection and acceptance of LGBTQ youth, and found new evidence to support the idea that engaging with families is key for health and human service providers to best assist LGBTQ youth. They also explore how the Family Acceptance Project has broken new ground by training 92,000 family members on LGBTQ inclusion.
Celebrate Pride By Learning More
The National LGBT Health Education Center announced a series of new webinars coinciding with the conclusion of Pride Month. Topics include caring for sexual and gender minority women, the latest developments regarding PrEP and STI prevention, and improving sexual health among youth.
(webinars are available on demand)
LBG Folks at Risk for Diabetes
A new study found that people who had same-sex attraction, orientation, or behavior as adolescents and adults, or just as adults, were at higher risk than their heterosexual peers for diabetes. This association was even stronger for sexual minority women than it was for sexual minority men. Interestingly, individuals who expressed sexual minority identity as adolescents but not as adults were not at higher risk for diabetes as adults.
Queer Girls and Substance Use
Researchers found that sexual majority female adolescents were 400% as likely to engage in substance use as were their heterosexual peers, with disparities present even at age 13. The authors say that the results reaffirm the need to have targeted interventions to prevent substance use initiation among this group, as well as to decrease substance use over time.
Where to Retire Well
Senior Advice reported their take on the best places for LGBTQ folks to retire, based on factors like LGBTQ-inclusive local policies, LGBTQ-friendly community spaces for older adults, and overall cost of living. The cost of living issue in particular may give older LGBTQ adults entering retirement reason to look beyond famously queer hotspots like New York and San Francisco.
Scaling Up HPV Vaccine
A study examined the potential impact of scaling up HPV vaccination among young men who have sex with men from the current vaccination rate of 13% to numbers as high as 80% (the federal government's goal under Healthy People 2020) or even 100%. Not surprisingly, they found that this would lead to major decreases in oral and anal HPV rates among sexual minority men. Vaccination (compared to condom use) was especially important in preventing oral HPV.
Trans Athlete Profiled
CNN reported on a transgender bodybuilder from Texas who is looking to inspire the trans community by finding success as an athlete, despite the discrimination and stigma he often finds at the gym. He says that getting into fitness helped him feel more affirmed in his identity as a transgender man.
HIV Care Beyond ART
Researchers examined the various ways in which scientists are attempting to achieve sustained HIV remission without the use of antiretroviral therapy (ART), which – while increasingly successful – still means patients have to take costly pills daily for life. They say more research and innovation will still be needed to make any of the alternative therapies a reality.