Is Being Gay in Our Genes?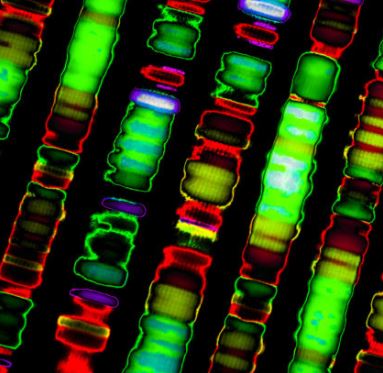 LGBT HealthLink, 9/13/2019
Now you can HEAR your Weekly Wellness Roundup, too! Listen to our weekly podcast here: https://apple.co/2lzs5Ti or on your podcast app of choice. Now available everywhere!
Multiple Genes Contribute to Sexual Orientation
STAT reported on a groundbreaking study which found that genetics are indeed related to sexual orientation, but do not tell scientists enough to predict orientation based just on DNA (at least not yet). Additionally, they found that many genetic variants contribute to one's orientation, and that there is thus no single "gay gene". The study included the DNA of over 400,000 individuals.
School Policies Associated with Disparities
A new study found that in states with prohibitions on the so-called "promotion of homosexuality" in schools, disparities existed between sexual minority and heterosexual students with respect to use of e-cigarettes that did not exist in states without these laws. Researchers say that stress from living under discriminatory laws may play a role in disparate e-cigarette use.
Treating Cancer among LGBTQ Youth
Healio reported on efforts in Australia to make healthcare professionals more welcoming of LGBTQ youth and young adults with cancer, a population which has remained mostly invisible. Researchers developed suggestions including comprehensive and ongoing training, creating safe spaces within hospitals, and partnering with more LGBTQ community stakeholders.
Differences in HIV Testing Rates
Researchers examined differences in HIV testing with respect to gender, sexual orientation, and race and ethnicity. Overall, Black men and women and Latinx men had higher lifetime testing rates than their White counterparts, whereas Asian men and women had lower rates than their White peers. Among men, gay Latinx men had the highest lifetime testing rate – 92.6%.
Sexual Minorities and Sexual Assault
The Conversation reported on the unique harms suffered by queer men who face sexual assault, who also may be less likely to report instances because of fear of stigma or victim-blaming. Rates of sexual assault among sexual minority males are even higher than those who are not. Experts say sexual minority survivors may face negative psychological outcomes with relation to their LGBTQ identities, which can entail low self-esteem and trouble managing relationships.
Defining Bisexuality
Prevention explored the meaning of terms like bisexual, pansexual, and more – the definitions of which often confuse those working in the health field (not to mention others). The author busts some common myths about the term "bisexual" by noting that bisexuality does not imply equal attraction to more than one gender, or that that attraction is always both sexual and romantic.
Trans College Students Face Challenges
Researchers found that in a data set of 65,000 college students, gender minority status was associate with a 4.3 increased odds at having at least one mental health problem compared to cisgender students. While problems like depression, anxiety, and eating disorders impacted 45% of cisgender students, 78% of gender minority students (almost 8 in 10) were affected.
35,000 Cancer Cases Attributable to HPV
A CDC study found that almost 35,000 cancers annually between 2012 and 2016 were attributable to HPV, with 92% of these cases being attributable to HPV strands that are targeted by the 9-valent HPV vaccine. More than half, 59% of these cancers caused by targeted strands of HPV occurred in women and 41% occurred in men. Other research has found that vaccinating more young men would particularly benefit gay, bisexual, and queer men.
New York Officials Condemn Forced Surgery
OZY featured an op-ed from top health and human rights officials in New York, recommending strongly against involuntary surgery performed on intersex babies and youth. Two percent (2%) of the population is born with an intersex trait and 1 in 2,000 babies is at risk of having "corrective" surgery performed on them, which the experts say these surgeries could be "damaging and traumatic."
How to Talk to Your Doc
Harvard Health published a guide for how LGBT people can talk comfortably with their doctors about their sex life, which is key to ensuring one's doctor is providing necessary and appropriate care. Their tips include being upfront about goals and concerns, taking a partner (or someone else) who makes the patient feel comfortable, and asking difficult but important questions.
Youth Interventions Need Study
A new study found a scarcity of scientific research on interventions to help LGBT youth with issues relating to substance use, mental health, and violence. In nearly 20 years' worth of studies relating to the population, only nine studied the effectiveness of programs to address these pressing issues. Researchers say that the lack of proof around effective programs should be seen as an opportunity for scientists to evaluate promising programs.
Improving Data on Gender Identity
Researchers examined issues that remain with respect to gender identity and research samples. Since 2014, the CDC's Behavioral Risk Factor Surveillance System (BRFSS) has allowed for optional collection of gender identity information, providing probability samples that can be used to study transgender health. But problems with generalizability remain, leading to the author's recommendations.