Improving Access to Care Has Positive Mental Health Impact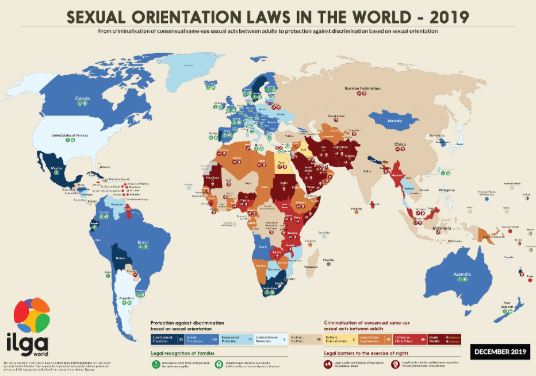 LGBT HealthLink, 6/3/2020
Now you can HEAR your Weekly Wellness Roundup, too! Subscribe to our weekly podcast here: https://bit.ly/LGBTWellnessPodcast or where ever you podcast.
Measuring Impact of Inclusive Policies
A new study examined the impact of states banning gender identity-related discrimination in health coverage. It found that in states issuing such nondiscrimination policies between 2014 and 2016, there was an associated decrease in suicidality among gender minorities within the first year. The results suggest that improving access to care and decreasing stigma could have a positive mental health impact.
Few States Collecting SOGI Data during Crisis
amNewYork reported on a legislative effort in the Empire State to have the public health system begin collecting sexual orientation and gender identity (SOGI) data during the COVID-19 pandemic. Few states, including California and Pennsylvania, have taken such action – meaning that the impact of COVID-19 on the LGBTQ community cannot be measured and disparities cannot be effectively addressed.
Long-lasting PrEP Shows Promise
Dallas Voice reported on a new form of PrEP that is injected once every two months instead of taken orally each day. In a trial, the new injectable version was found to be 69% more effective at preventing HIV infection than the current daily pill. A long-acting injectable is seen as an attractive alternative to a pill for which the efficacy is largely dependent on patients remembering to take it every day.
Gender Minority Youth Face Mental Health Disparities
Trevor Project published new research finding that transgender and nonbinary youth were at least twice as likely than their cisgender LGBQ peers to have experienced depressive symptoms or attempted suicide. Transgender males were, among all gender identity groups, those most likely to have faced these challenges. Trevor Project offers emergency services for all LGBT youth in crisis.
Status of Sexual Orientation Rights
Forbes explored the status of LGBT rights around the world, and noted that in 70 countries, it is still illegal to be in same-sex relationships, including 12 countries in which the penalty is death. Meanwhile, in 65% of the world's countries, same-sex relationships are legal, but only 6% of countries ban sexual orientation-based discrimination in their national constitutions.
LGBT Personnel Work and Wait
USA Today reported on how LGBT healthcare workers are combatting COVID-19 even as the Supreme Court considers whether to protect or diminish their employment rights. About half of LGBT healthcare personnel (totaling an estimated 386,000 people) live in states without their own law banning anti-LGBT employment discrimination, meaning they can be fired for being LGBT unless the Court recognizes their rights federally.