Hear now - the news! #LGBTWellness Roundup of the week!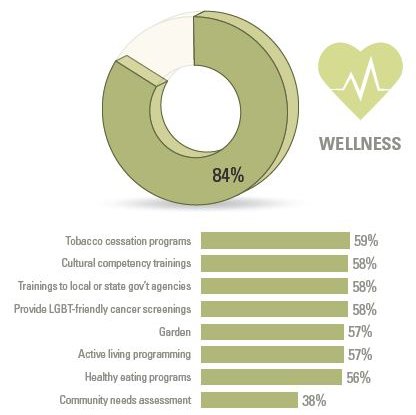 LGBT HealthLink, 9/6/2018
CDC Finds Disparities among LBT Women
The CDC released a new study that examined five healthy behaviors: not smoking, drinking in moderation, maintaining a healthy weight, being physically active, and sleeping well. They found that lesbian (5.4%) and bisexual (6.9%) women were less likely than heterosexual women (10.6%) to engage in these healthy behaviors. The results for transgender women suggested that they may be more likely to fall to one extreme or the other with healthy behaviors.
Understanding Gender Dysphoria and Youth
Researchers found that adolescents who experience gender dysphoria during or shortly after puberty often first expressed a non-heterosexual orientation (41%) and frequently had been diagnosed with a mental health or neurodevelopmental issue (62%) before gender dysphoria. The vast majority (83%) had been assigned female rather than male at birth.
Some Doubt Importance of Orientation
Johns Hopkins University reported on a new study finding only 52% of providers in a sexual health professional group asked for patients' sexual orientation, and 42% said sexual orientation was not relevant to their care. One of the study's authors said that this demonstrates that even providers who focus on sexual health may not understand the importance of LGBT identities.
Celebrating Health Centers
Fenway Health celebrated National Health Center Week and the role that centers play in providing healthcare to millions of people, including those who otherwise might go without care. NJ Spotlight also reported on a kick-off event in conjunction with this special week of a new health program especially for LGBT individuals, which was championed by state officials.
An Avatar to Help Treat HIV?
A Chicago-based study of Black men who have sex with men explored using an avatar-like personality in an app to help with HIV treatment. The focus groups generally liked the idea of the avatar keeping them informed and adherent, so long as concerns were addressed around topics like privacy and stigma, as well as some of the qualities of the avatar.
Turning Your Facility Tobacco-free
The National Behavioral Health Network for Tobacco & Cancer Control released new resources on how facilities of various types can transition to being tobacco-free campuses. The resources may be of interest to LGBT community centers and healthcare centers that focus on LGBT populations, given the high tobacco use disparities facing the community.
Centers Play Big Role in LGBT Health
LGBT CenterLink and Movement Advancement Project released their biennial report on LGBT centers nationwide. The 128 centers that participated in the report represented 40 states plus D.C. and Puerto Rico, and served an impressive 40,550 people per week. Additionally, the vast majority – 68% – offered health services, marking centers as a critical facet of LGBT health.
Additional Barriers as First Offenders
ABC News reported on a study finding that LGBT youth who are first offenders in the criminal justice system face health disparities compared to their non-LGBT peers. These included internalization of problems, self-harm, and substance use. Additionally, the study found that about one-third of the first offenders studied were sexual minorities, suggesting disproportionate involvement in the system.
Youth Really Want HIV-related Care
A new study found that 62% of teenage young men who have sex with men were willing to participate in clinical trials for PrEP (HIV prevention treatment), but some had concerns about confidentiality. Researchers cautioned against undue influence because many said they would participate just to receive free care, which should be concerning to researchers – and to advocates of better access to HIV-related care.
Family Acceptance Campaign Launched
CBS News reported on a new initiative from former Vice President Joe Biden designed to increase family and community acceptance of LGBT youth. The campaign is currently collecting stories on personal experiences as well as investigating best practices to reduce rejection and increase acceptance, which could be critical in improving LGBT health outcomes.
New Clinical Strategies for Trans Care
Researchers evaluated the creation of the Center for Transgender Medicine and Surgery at Boston Medical Center, an innovative clinical approach that sought to provide more holistic care to transgender patients. The study explains how the creation of the center uncovered prior gaps in care, which included adolescent care, care coordination, and certain types of surgery.
E-cig Company Investigated
Reuters reported that Massachusetts is investigating a leading manufacturer of e-cigarettes, specifically on whether the company has done enough to prevent online sales to minors. The article notes that the product is especially popular with teenagers – and research shows that LGBT teens are significantly more likely to "vape" than their non-LGBT peers.