Colorado Makes Trans Care History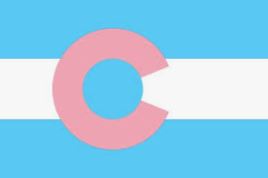 LGBT HealthLink, 11/22/2021
LISTEN to our Weekly Wellness Roundup podcast! Subscribe here: https://bit.ly/LGBTWellnessPodcast or where ever you podcast.
Washington Blade reported Colorado becoming the first state in the country to include transition-related care as an essential health benefit that insurers must cover, following the Biden administration's approval of the plan, as required under federal law. Both state and federal officials say the changes will make it easier for transgender people to access care that has proven benefits to their well-being and overall health. Such care has been increasingly covered in recent years, but previously was completely excluded, with many gaps still remaining.
Workplace Challenges, Lawsuits Continue
Relatedly, Bloomberg News profiled challenges transgender people face in the workplace, including getting access to the care they need. One transgender woman in Georgia not only fought to have her pronouns recognized and gendered uniform changed, but also faced a $6,800 bill for gender-affirming care, something she is now challenging in court. Dress codes, religious exemptions, and fertility benefits are other areas in which trans people have faced major barriers and that have now been challenged in courts as discriminatory and harmful.
LGBT Residents Face Discrimination
Medscape reported in a study finding that LGBT surgery residents were more likely to face bullying, sexual harassment, and discrimination, and were also more likely to consider leaving their residency program, when compared to non-LGBT peers. The news is concerning, not only because of the individual impact on those affected, but because fewer LGBT providers (and fewer who are comfortable being out) could hinder efforts to make care more LGBT inclusive.
Some in Oklahoma OK with Nonbinary
The Oklahoman reported that the state's health department issued a nonbinary gender marker on a birth certificate for the first time. A nonbinary person now living in Oregon requesting the change. The state's governor responded by asking the legislature to ban the health department from doing so, incorrectly asserting that genders are limited to make and female.
Higher Mortality for Trans Folks in the Netherlands
JAMA shared new research from the Netherlands finding that transgender women there were about twice as likely to lose their lives over a given period of time than were cisgender men, and three times as likely than cisgender women. Transgender men also had disparities compared to cisgender women, though not cis men. While the overall trend was similar over the years, HIV-related and suicide deaths both declined, a sign of hope.
San Francisco Lags on LGBT Data
Bay Area Reporter shared concerns that as California moves towards collecting more LGBT health data than most (or any) US states, San Francisco – known for its large LGBT population – has fallen behind. The city has so far produced little usable data, advocates say, problems the health department attributes to changes in its record system and COVID-19 response. The news points out the challenges that can come with attempts to incease sexual orientation and gender identity data.