Anti-Trans Bills Take Toll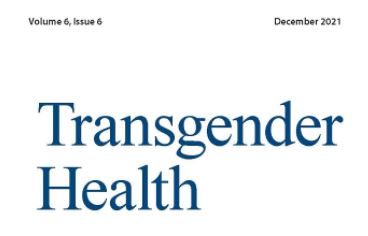 LGBT HealthLink, 12/7/2021
Anti-trans Bills Take Toll
Transgender Health published a study exploring how transgender and gender diverse youth feel about recent anti-transgender legislation that has advanced at the state level across the US, including bills aiming to ban gender-affirming care for youth. The youth described feelings of hopelessness, sadness, and fear as a result of the rhetoric and attacks on their identities, and also discussed how interruptions to their gender-affirming care would impact their health and lives. The participants urged policymakers to stop trying to control their personal health decisions and self-identities.
White House Marks Day of Remembrance
The White House published a statement recognizing November 20th as Transgender Day of Remembrance, while mourning the loss of the 46-plus transgender Americans who have died due to violence so far this year. As part of the recognition, the administration shared a report highlighting some of the concerns it has heard from transgender advocates, including with respect to healthcare access and discrimination, and the policies it is advancing as a result of these concerns.
Research for Awareness
Relatedly, Pride Study marked Transgender Awareness Week this month by sharing some of the novel research that has come out of the initiative, which aims to collect more data on LGBT health. The program has allowed researchers to examine many issues – such as eating disorders and pregnancy – that previously had little to no inclusion of transgender populations, as most research excludes questions on gender identity (as well as sexual orientation). One recent study examined the words that transgender and gender-expansive people use to describe different parts of their body, and found that many use non-medical terms which may be more detached from terminology that has traditionally been gendered. Another study found that transgender people were more likely than their cisgender peers to have gotten an HPV vaccine, and that they were more likely to have done so if they searched for information on social media rather than online in general.
LGBT Retirement Community Revisited
US News reported on the vanishing LGBT retirement community known as the Palms of Manasota, which was touted 20 years ago as the first of its kind – but has since struggled as many original residents have passed away and the new developers have reduced LGBT-specific advertising. Experts say housing initiatives for LGBT older adults often struggle because they cannot prioritize LGBT folks or exclude others, instead only using LGBT-friendly marketing to drive LGBT residents in larger numbers. Still, advocates say that the need for such initiatives is great, given the unique needs and stigma facing LGBT older adults, which drew retirees to the Palms to begin with.
Trans Mental Health Examined
LGBT Health published a study finding that compared to cisgender White adults, several subpopulations of transgender adults – including those who were White, American Indian, Alaska Native, or "other" or multiple races or ethnicities – had higher odds of frequent mental health distress as well as lifetime depression diagnoses, after controlling for sociodemographic differences. Few studies have looked at trans mental health among different ethnic and racial groups, with researchers calling for more study.
Smoking Differences among LGBT Mexicans
Meanwhile, a study of adults in Mexico found that sexual minority people who smoke were more likely to have depression than heterosexual smokers. Gay men were more likely to exhibit smoking dependence, while bisexual men had higher dependence with respect to e-cigarettes, and lesbian women were more likely to smoke menthols. The results highlight the importance of nuance in addressing smoking in the LGBT community, which disproportionately uses tobacco products.
New HIV Treatment Brings Choice, Hope
ABC News reported that an injectable HIV treatment is now being offered for the first time in the UK, where eligible patients can receive a single shot every other month instead of taking a daily pill to treat HIV infection. A similar, but monthly, regimen has also been recently approved by the FDA in the US. The injection provides a new option in the fight against HIV, which disproportionately impacts transgender individuals and sexual minority men, but will not be possible or the best choice for everyone – including those who have trouble getting to their provider's office for the shot.
Heart Health among Trans Folks
Healio reported on findings shared by the American Health Association suggesting that transgender individuals have some increased risks with respect to cardiovasular health. For example, those on estrogen hormone therapy are more likely to experience blood clots, and overall transgender people report elevated body mass indexes (BMIs). They also note that transgender people who are undergoing gender-affirming hormone therapy are more physically active than trans people who are not using such care, suggesting that expanding gender-affirming care could have exercise and thus cardiovasular health beneifts for the population.
Woman Denied Surgery in Case Sexual Orientation "Changes"
Irish Central reported on the story of a lesbian woman who sought a hysterectomy and was denied care by her provider, who said that she may "change" her sexual orientation in the future and wish to have children, which a hysterectomy would prevent. The woman, who is seeking the surgery to deal with chronic pain, said that she was given no medical reason for being denied care – just the provider substituting his judgment for her own. Her story has gone viral on social media, with many sharing similar stories and concerns about the competence of healthcare providers to treat LGBT people.
Examining Suicide Deaths in Tokyo
LGBT Health published a study finding that between 2009 and 2018, gay males made up the majority of deaths due to suicide among LGBT people in Tokyo, with transgender people also at high risk. There were also differences in risk and protective factors when comparing LGBT and others who died from suicide, which could present ideas for interventions. However, researchers cautioned that the numbers likely underreported suicide deaths in the community and that better data would be a key step in making progress.