All of Us Research Program Boosts LGBT Outreach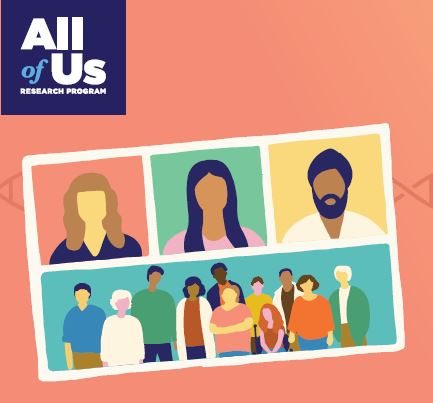 LGBT HealthLink, 10/18/2021
LISTEN to our Weekly Wellness Roundup podcast! Subscribe here: https://bit.ly/LGBTWellnessPodcast or where ever you podcast.
Research Program Boosts LGBT Outreach
The All of Us Research Program announced seven new community partners to help with its goal of creating a massive and diverse pool of health data to help researchers better understand the needs of different populations. The grantees include a team at Stanford University, which will focus on increasing enrollment among sexual and gender minorities, as well as establish an advisory group of adolescent sexual and gender minorities to help steer their participation. Other grantees will work on other priority populations, including Black and Latinx populations who tend to face disparities within the LGBT community as well. To learn more about participating in this novel program and contributing to what we know about our communities' health, visit JoinAllofUs.org.
CA Bill Would Improve Data
On the subject of inclusive data, Pink News reported on a California bill recently approved by the state senate that would begin including sexual orientation and gender identity in data collected on victims of fatal violence. The result would be an unprecedented source of data on LGBT people who die from homicide as well as suicide, data that generally is not collected. One of the bill's lead proponents says that the bill is really about preventing future violent deaths among LGBT individuals, a challenging task when advocates and policymakers lack full information.
LGBT Mental Health During Pandemic
American Journal of Public Health published a study of five major US metropolitan areas that found straight, cisgender individuals had lower levels of anxiety, depression, and problematic drinking compared to all others during the first several months of the COVID-19 pandemic; in contrast, LGBT people were more likely to say they had experienced these problems "more than usual" during the pandemic. The researchers called for additional study and for policymakers to assess what supports can be implemented for LGBT folks dealing with mental health issues.
Rights Under Threat, Op-ed Says
LA Times published an op-ed explaining how a new law in Texas that allows private citizens to sue anyone who assists in the provision of an abortion after 16 weeks – which is constitutionally protected – could lead to a trend countering other civil liberties. For example, the article explains, a state could create a law allowing citizens to sue anyone who assists with a same-sex marriage, even though entering such a union was deemed a civil right by the Supreme Court. The controversial law has so far been allowed to stand.
Scrutiny Follows Homophobic Attack in Brooklyn
Gay City News reported on the latest in what has been a string of anti-LGBT attacks in Brooklyn. In this case, a pair of individuals attacked customers of a bodega, one of whom is an out gay man and the other a heterosexual man whom the attackers assumed was gay, too. The owners of the store where the attack occurred are also under scrutiny for refusing to help the victims or call for emergency assistance, instead ordering the victims to leave the store, causing community leaders to call for more accountability and support from the business community.
Mental Health & Support in Kenya
LGBT Health published a study led by an LGBT community center in Western Kenya, which found that LGBT community members who had experienced violence relating to their LGBT identity or had experienced intimate partner violence were more likely to have symptoms of depression and post-traumatic stress. Unfortunately, having social support was not associated with having more moderate experiences with these mental health conditions.