3 Days in Alaska – A Whole Lot of Warm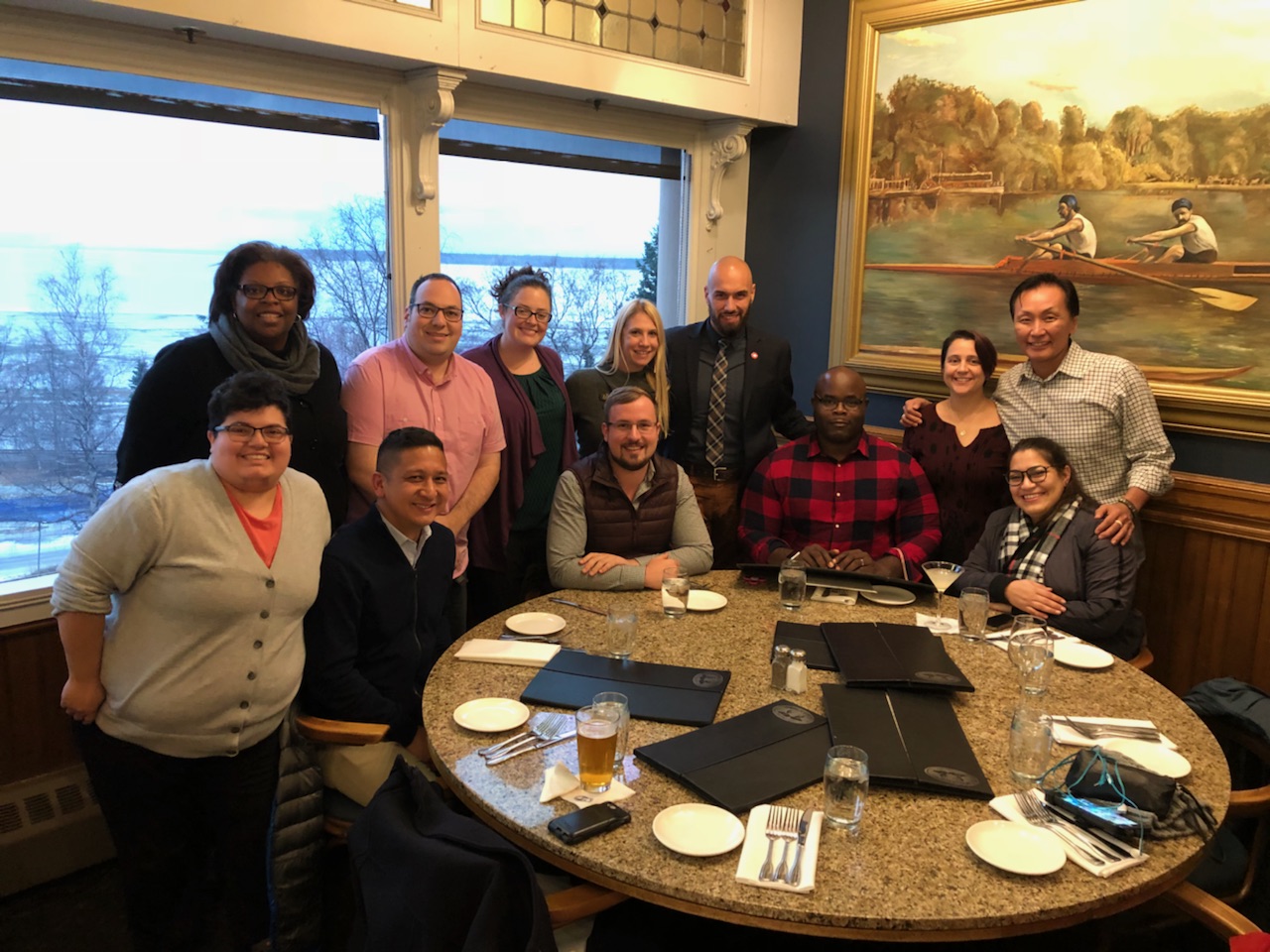 LGBT HealthLink, 12/5/2017
For three days in October, LGBT HealthLink's Community Advisory Council (CAC) held our annual in-person meeting in Anchorage, Alaska. This meet up was the perfect opportunity for these hard-working, volunteer innovators to learn more about LGBT HealthLink, LGBT health disparities, and the incredible work being done in Alaska and other states to reduce those disparities.
The CAC is an active, multi-sector committee of LGBT HealthLink, a program of CenterLink, with demonstrated success implementing culturally appropriate LGBT policy, system and environmental change strategies. The CAC members promote the use of science-based, culturally competent strategies for addressing tobacco-related and cancer health disparities experienced by the LGBT community. LGBT HealthLink's CAC serves as one method of communication and feedback between LGBT HealthLink and LGBT communities nationally. The CAC members provide LGBT HealthLink the opportunity to hear directly from stakeholders on the impact of the program's work in addressing LGBT health disparities.
Our diverse CAC members live in different geographic locations around the country and getting together at least once a year for a face-to-face interaction is a bonus. At the meeting, LGBT HealthLink's Program Director, Dr. Regina R. Washington, discussed LGBT HealthLink's program strategies, critical activities, and key workplan deliverables for 2017-2018. Also, CAC initiated the development of the framework for LGBT HealthLink's E-Summit anticipated in May 2018 through the facilitation of CAC's co-chairs, Shor Salkas and Adrian Shanker. We also had the opportunity to talk with key program leads from the Alaska Department of Health in tobacco and cancer programs. Additional guest speakers included Dr. Ray Troche who spoke of BRFSS data collection for lesbian, bi-sexual, and gay individuals and tobacco use in Alaska, and Dr. Gary Ferguson, the CEO of RurAL CAP, who spoke on the intersectionality of LGBT and Native Alaskan heath.
Much was accomplished during the long Alaska days and nights. Workgroups were formed to focus on advancing LGBT health equity in the areas of tobacco use and cancer prevention and control. More topics identified and adopted into the workplan included increasing sexual orientation and gender identity (SOGI) data collection at the national, state, and local levels, and addressing LGBT rural and people of color health issues. Time was carved out to meet with Identity Alaska, a community-based organization advancing Alaska's LGBT community through advocacy, education and connectivity. During some discussions, it was agreed that healthcare systems have an opportunity to collaborate with LGBT community centers to advance efforts to improve LGBT health.
One of the major goals of the meeting was to strategize and begin planning our annual E-Summit. The E-Summit offers many webinars and panel discussions over a period of 3 days. E-Summit features presenters who work in the areas of public health, community-based organizations, and health care systems to share evidence-based approaches to addressing LGBT health disparities, advances and insights into best and promising practices for LGBT health, patient navigation, cancer screening, the tobacco quitline, and much, much more. Stay in touch with LGBT HealthLink to get more information on dates and session topics, www.lgbthealthlink.org.
Of course, the best part of this annual CAC meeting is the personal bonds formed and shared experiences. Below are a few reflections from this year's meeting some of our members posted on Facebook.
As I'm sitting in the airport awaiting my midnight flight home from Anchorage, I'm reflecting on the power and magic of the last week. My reason for being here was to co-chair the LGBT Healthlink Annual in-person Meeting – Our meetings with leaders at Alaska Department of Health and Identity (LGBT Center in Anchorage), as well as hearing from a Native Alaskan health leader about intersectional health challenges for LGBT, Native Alaskan, and rural communities, gave power to our strategic work to plan for LGBT Healthlink's final CDC grant year. I feel grateful to have had the opportunity to spend the rest of the week exploring interior Alaska with friend and colleague, Anthony. It's hard to quantify the most magical moments: looking up to see a bald eagle perched on top of a tree, witnessing Alaska's fierce sunrises, relaxing in the Chena hot springs, learning about the cultural significance of dog mushing and meeting some retired Iditerod racing dogs, touring a geothermal power plant, staying up half the night to see the Aurora, experiencing Alaskan art and history at the Museum of the North, visiting with moose, elk, and reindeer… This was truly an unforgettable week. It was also a week with its challenges. I drove more than 1200 miles this week. Vegetarian food wasn't easy here, and Alaska's hunting/trapping culture (complete with dead animals on display all.over.the.place.) caused me to consider my discomfort with a lens of cultural humility. Driving through Denali State Park in a blizzard was dangerous even in my rented Durango. And I made a decision to not wear my Kipah in interior Alaska because I didn't feel comfortable wearing it with the socio-political milieu in the region. As I return to Pennsylvania, I am feeling a gentle mix of gratitude, exhaustion, and adrenaline. Alaska, it's been real and I'll be back!
Full day of discussing best practices for community based organizations when working with state health departments to improve the health of the LGBT community! #lgbthealthlink #tobaccofreequeers
Earl Nupsius Benjamin-Robinson
Over the past few days I have had the distinct pleasure of convening with trans, gender-fluid, two-spirit, same-gender loving, bisexual, lesbian, gay, cis gender persons that are community leaders, public health experts, program directors, marketing experts, practitioners, professors, and research scientists. We convened to discuss, brainstorm, and develop equitable strategies to combat cancer and tobacco disparities effecting sexual and gender minorities. My take-aways from the HealthLink advisory board meeting are 1) I am my sisters and brothers' keeper, 2) What I've overcome will not be undone, and 3) I AM!
Alaska
We were so lucky to have gotten the opportunity to share this day together. Thank you, Larry, Kairaiuak Apacuar for everything! Today ended in the most wonderful way possible, and we will never forget it.
Feeling so grateful to Kairaiuak Apacuar for helping LGBT HealthLink host an incredible Community Advisory Council meeting and time for community building in Alaska this week. There is nothing more special than a person inviting you to their home and whole-heartedly sharing their culture with you. We learned so much about tobacco and cancer work in Alaska, and about the intersectionality of indigenous and native health and LGBTQ health.
This is how we build community, understanding, and lay strong foundations for health equity and social justice in our intersectional work.
thank you thank you thank you to a beautiful community
#LGBThealth #NativeHealth #intersections #LGBTHealthLink #socialjustice#healthjustice #communityishealing
Keep in touch with LGBT HealthLink by joining our FREE membership. Have access to our library of tools and resources, all free. Join our members-only online networking groups, exclusive webinars just for members, and keep up to date with our Weekly #LGBTWellness Roundup. It's quick and easy to join, and it's all free!