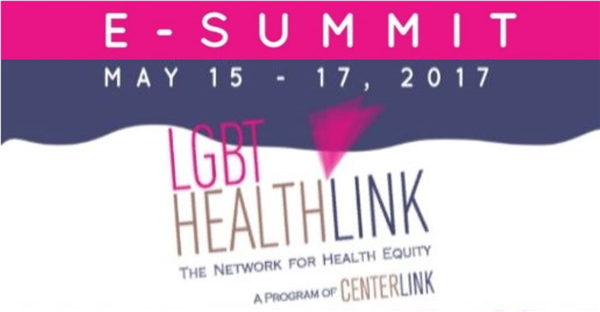 2017 E-Summit
Monday, May 15 - Wednesday, May 17
Learn about cutting edge examples of reducing LGBT health disparities including emerging trends in tobacco and cancer control
Discuss addressing LGBT health in a changing national climate and learn about preparing for change and sustainability in a lower resource environment
Increase their understanding of collaborative efforts and solutions related to the many intersectional issues that impact LGBT health
Acknowledge and start learning to address known barriers to care for LGBT people
---
Workshops/Sessions
No Need for Alternative Facts: Using SOGI Data to Make Us Count
Monday, May. 15, 2017, 2:00 PM
National Jewish Health is the provider of the largest non-profit smoking Quitline in the country. We will share best practices for integration of SOGI (sexual orientation and gender identity) data collection, latest trends on how to best capture the data, and addressing services and disparities for the LGBT community within the tobacco cessation services and local oncology patient navigational methods.
Presenters: Amy Lukowski, Psy.D, Clinical Director of Health Initiatives at National Jewish Health; Julia Thorsness, Program Coordinator for Comprehensive Cancer Program for the State of Alaska
Downloads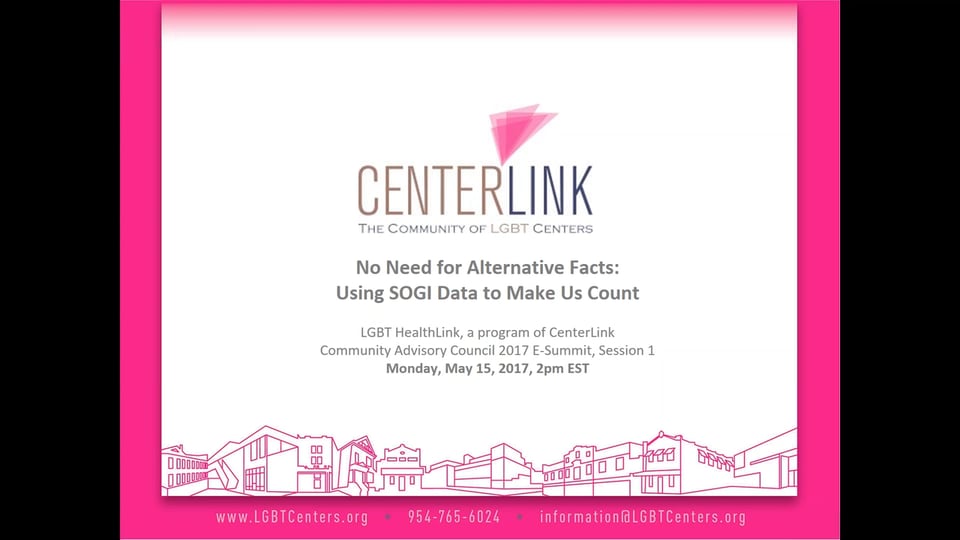 No Need for Alternative Facts
PDF, 1.3mb
Details/Download
---
Innovative Approaches to Tobacco Control: Tackling Tobacco as a Social Justice Issue
Monday, May. 15, 2017, 4:00 PM
During this session three leaders in tobacco control will discuss: a movement sweeping the nation - increasing the minimum sale age for tobacco and e-cigarette products from 18 to 21 years old; partnerships with LGBT organizations and events to promote smokefree environments at Pride festivals, bars, and Centers; and dangerous and shocking trends in e-cigarette marketing.
Presenters: Dr. Rob Crane, Tobacco 21, Clinical Professor of Family Medicine at the Ohio State University; Louie Marven, executive director of the LGBT Center of Central PA; Dr. Amanda Fallin, Assistant Research Professor, University of Kentucky
Downloads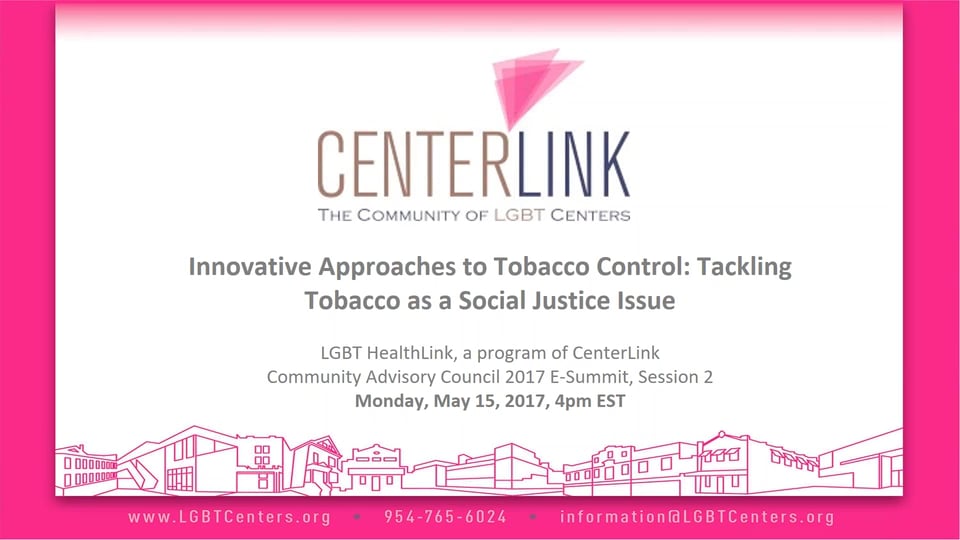 Innovative Approaches to Tobacco Control
PDF, 4.7mb
Details/Download
---
LGBTQ as Consumers of Health Care Panel: Experiences of Equity, Discrimination and Advocacy
Tuesday, May. 16, 2017, 12:00 PM
Panel of LGBTQ-identifying people and their experiences of equity, discrimination and the need for advocacy within the US healthcare system. This panel will include LGBTQ parents and other health care utilizers who have experienced a range of topics including: Overt and covert expressions of homophobia, transphobia, biphobia; the importance of inclusion and making LGBTQ-identifying individuals feel comfortable in the healthcare setting; and suggestions to improve the care of LGBTQ-identifying people.
Presenters: Asher Santos, PhD, MPIA, Adjunct Professor, National University; Naomi Goldberg, mother who used LGBT-health care centers, advocates, academics; Beth Kind - Transgender woman, business owner; Michelle Marzullo, PhD, MA, Professor/Chair, PhD Program in Human Sexuality, California Institute of Integral Studies - experience with medical professionals as a patient
Downloads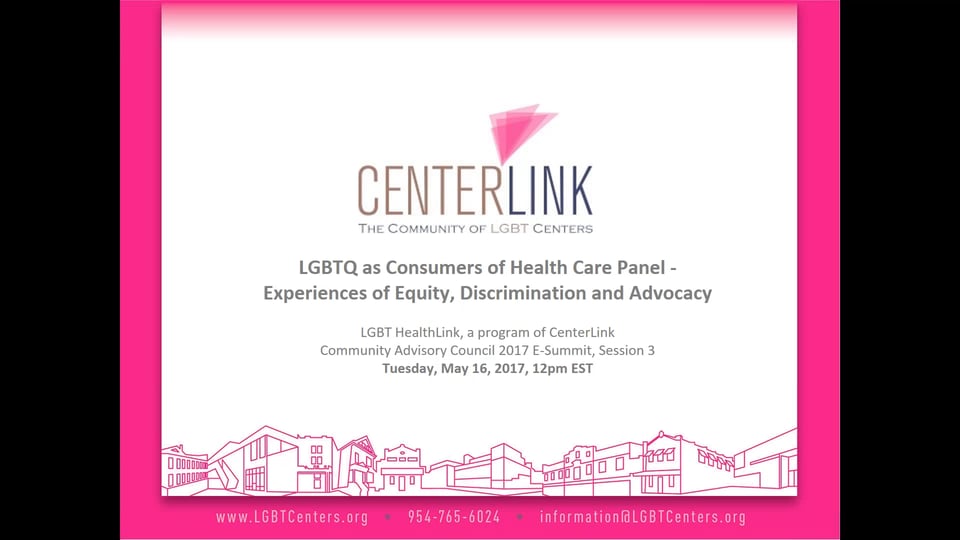 Consumers of Health Care
PDF, 1.51mb
Details/Download
---
Building on What We Know: Addressing LGBT Cancer Disparities
Tuesday, May. 16, 2017, 2:00 PM
During this session, we will hear from representatives of an academic institution, a health care system, and the community to discuss three different primary cancers (anal, cervical, and colorectal cancers) incorporating the common threads of health disparities, intersectionality, best and promising practices.
Presenters: Dr. Amanda Fallin, Assistant Research Professor, University of Kentucky; Dr. Archana Maini, Medical Research Director, Hematology/Oncology Division, Broward Health Cancer Center; Adrian Shanker, Executive Director, Bradbury-Sullivan LGBT Community Center
Downloads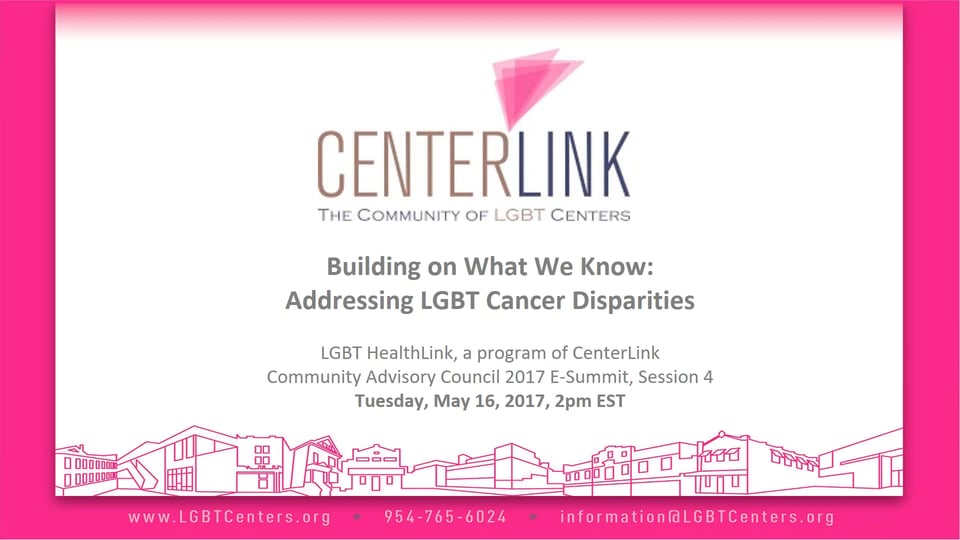 Building on What We Know
PDF, 4.24mb
Details/Download
---
Trans Health Overview: Language and US Trans Survey Highlights
Tuesday, May. 16, 2017, 4:00 PM
In this session, we will be doing an overview of language and concepts related to gender identity and transgender identities and communities. Presenters will also do an overview of important issues from the US Trans Survey report as it relates to health disparities and social determinant issues that are prominent in trans communities.
Presenters: Shor Salkas, MPH; Dr. Sheryl Zayas, Care Resource
Downloads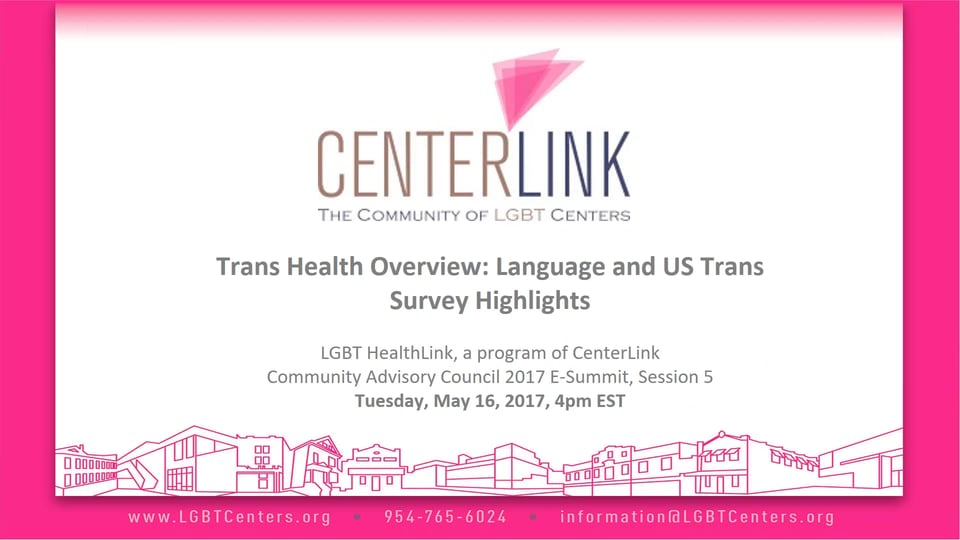 Trans Health Overview
PDF, 3.71mb
Details/Download
---
Navigating the Healthcare System in Changing Times
Wednesday, May. 17, 2017, 2:00 PM
Patient Navigation:(1) discuss evidence for patient navigation programs for cancer prevention (tobacco treatment and cancer screening); (2) present a case example of a successful patient navigation program; (3) discuss models for clinic reimbursement for patient navigation programs. Navigating the Health System: (1) provide an overview of the Affordable Care Act (to include an overview of any changes or currently proposed changes at the time of the presentation); (2) tips for advocacy and health insurance literacy during this period of proposed healthcare reform; (3) best practices to maximize your healthcare access (e.g, medical savings accounts, sliding scale options)
Presenters: Brad Belnap, Program Manager, Comprehensive Cancer Control Program, Utah Department of Health; Mollie Aleshire, DNP, APRN, FNP-BC, PPCNP-BC, Assistant Professor, University of Kentucky College of Nursing; Keisa Bennett, MD, MPH, Associate Professor, University of Kentucky Department of Community Family Medicine, Director of the Transform Health Clinic
Downloads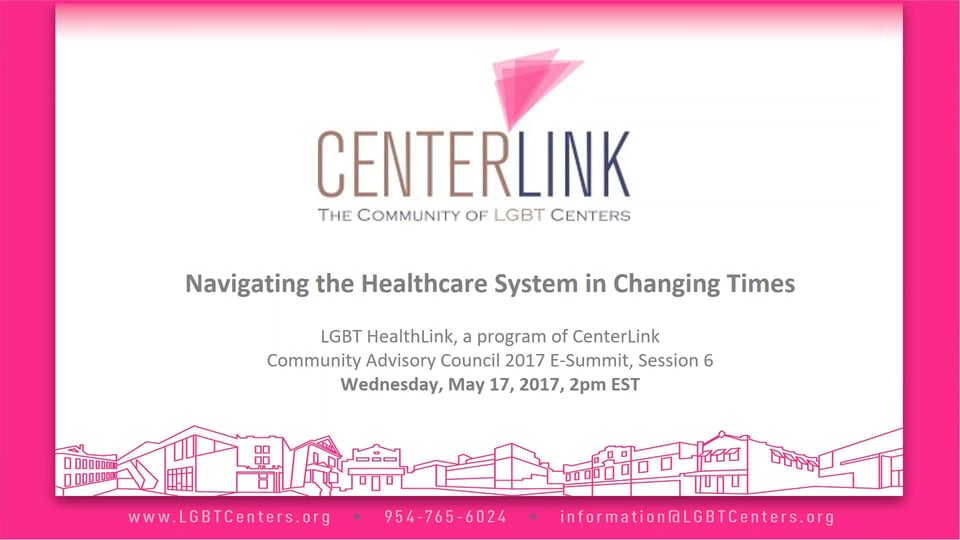 Navigating the Healthcare System
PDF, 4.96mb
Details/Download
---
Health Funder Panel
Wednesday, May. 17, 2017, 4:00 PM
LGBT community-based organizations, including LGBT community centers and LGBT youth centers, are perfectly positioned to promote health and wellness in the communities they serve - but finding funding to support this critical work can sometimes be a challenge. This panel includes public and private funders who will share information about what they look for from prospective grantees, how to approach public and private funders with requests for support, and what preliminary information is helpful before making an ask.
Presenters: Richard Burns, Consultant, Johnson Family Foundation; Eliza Muse, Deputy Program Manager, State of Alaska Tobacco Prevention & Control: Jamie Magee, Director, Tobacco Prevention & Control Services, Health Promotion Council
Downloads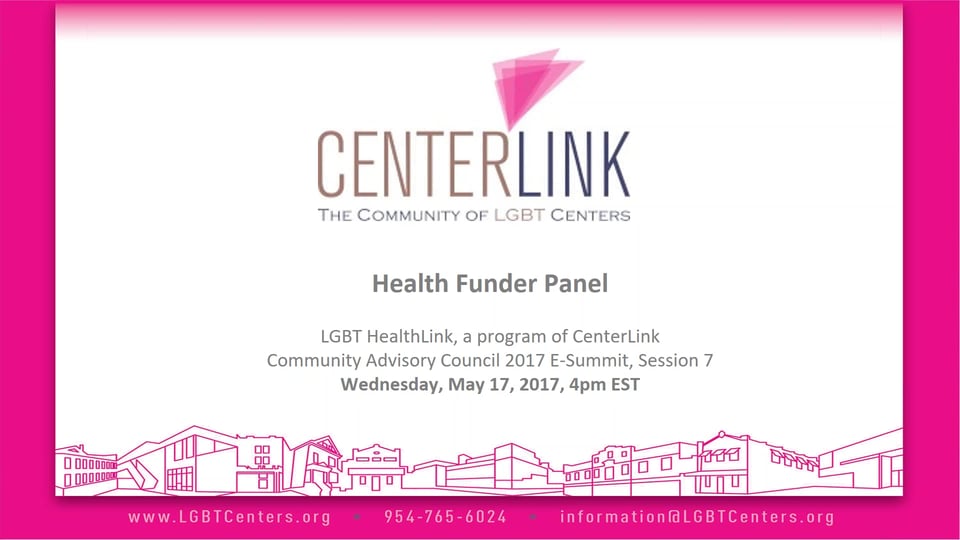 Health Funder Panel
PDF, 2.67mb
Details/Download
---